In the Dashboard we can see the 24h Indicators section.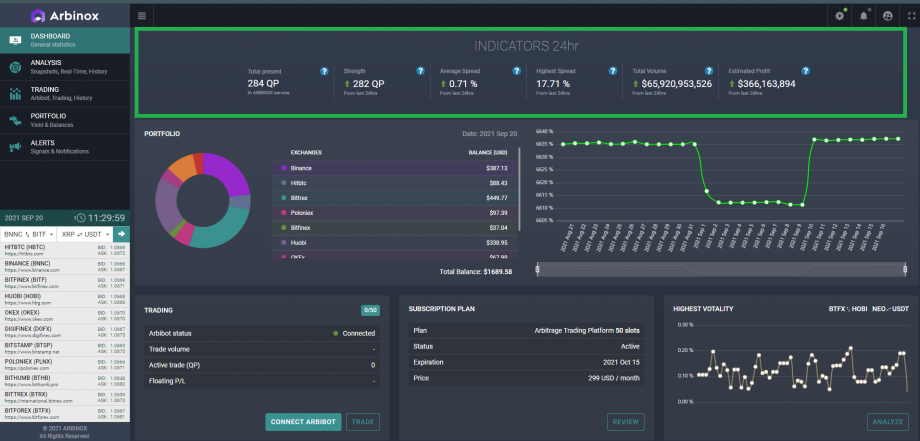 Indicators 24hr
Total present : 284 QP  In ARBINOX service. The number of Quadro Pairs represented in the system and which can be traded
Strength : 282 QP (from last 24hrs). Estimated Pro Strength – An indicator that displays the number of Quad Pairs for which over the past 24 hours there have been high indicators of the Average and Highest spread.
Average Spread : 0.71% (From Last 24hr ). The average value of the spread over the last 24 hours for the quad pairs that were marked with the Strength indicator.
Highest Spread : 17.71 % (from last 24hr).The highest value of the Spread over the last 24 hours for any quad pair.
Total Volume : 65 920 953 226 $  (from last 24hr). The total traded volume for all Quadro Pairs in the system over the past 24 hours.
Estimated Profit : 366 163 894 $ (from last 24hr). Estimated profit in the last 24 hours. It is calculated from the volume and average spread minus the exchange commission, from Quadro pairs which show the positive value of such a calculation. The model assumes a selection of only 10% from such a calculation.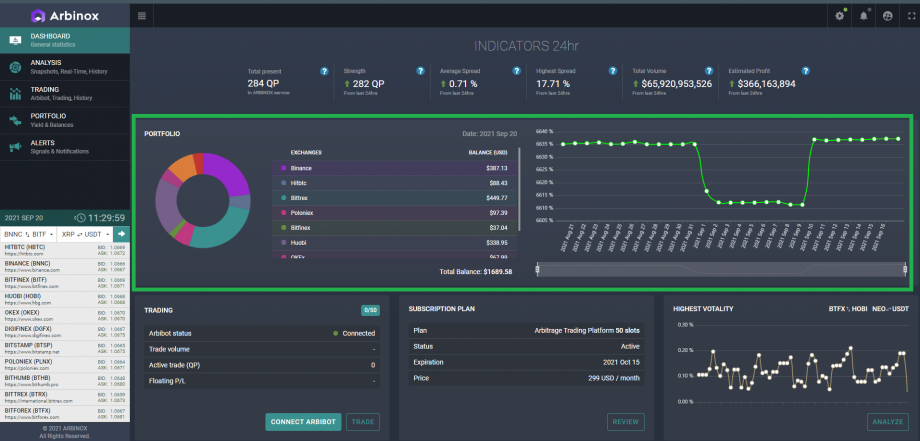 Portfolio
In this section, we can see the balances for each exchange connected to Arbinox. As well as the overall balance for the entire portfolio. We see a graph that shows the level of portfolio development. Vertically, we see values in% from zero to infinity. Horizontally, we see the periods by day
If we want to view a separate period of change in percentage, then at the bottom we have a slider with which we can narrow and expand the time range shown in this graph.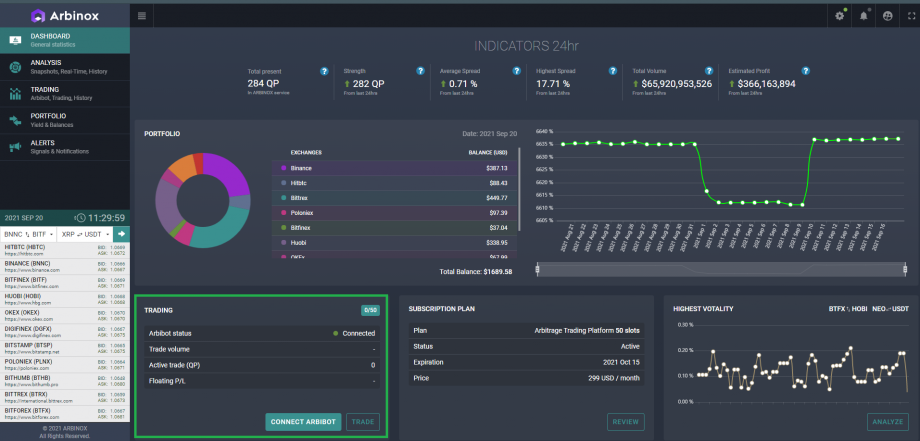 Trading
In this section, we can see concise information about the trading process:
Arbibot Status : Connected-Disconnected
Trade Volume : Equity volume in USDT for all open Quad Pairs (Here you can see the volume of only open deals, it does not display the entire volume that is opened by Quad Pair on two exchanges.)Example: QP Binance – Okex / BTC–USDT The volume of 100$, that is, an order for Buy volume of 100$ will be opened on Binance and an order for the Sell volume of 100$ will be opened on Okex. In fact, we open two differently directed orders with a total volume of 200$. But in Trade Volume we will see 100$.
Active Trade (QP) : Number of open orders on the platform.
Floating P\L : Profit and loss indicator for all orders.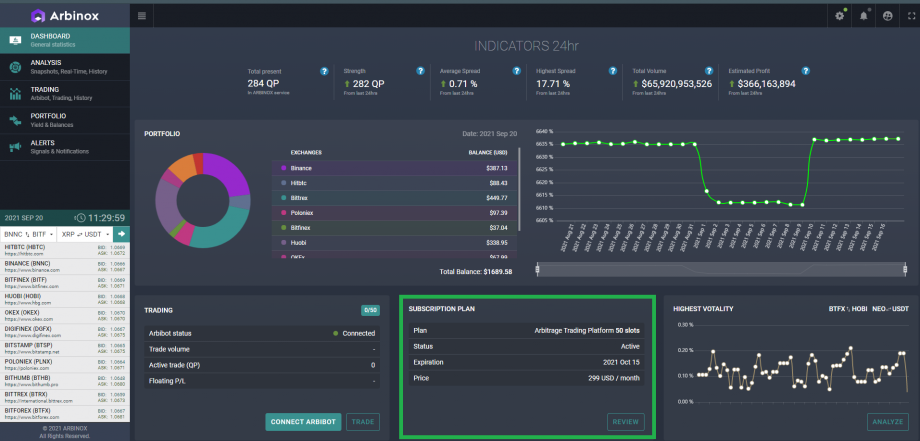 Subscription Plan
Here is all the information regarding the subscription plan you have chosen.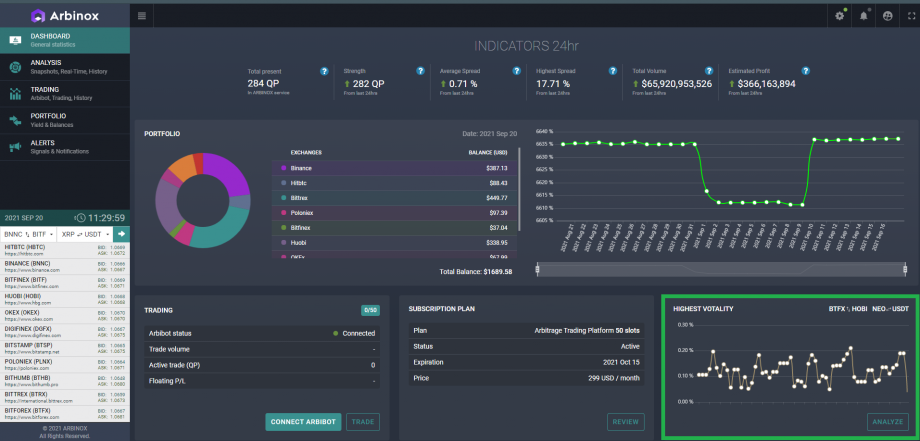 Highest Votality
This is the Quad Pair with the highest volatility in the last 24 hours.